With his senior year in college approaching, Michael Ducker was broke.
It was 1975 and, with no money to pay his rent or tuition, the University of Memphis student asked his roommate where he might get a job. "A little company called Federal Express is hiring — you might try there," Ducker recalls his friend saying.
Ducker filled out an application, underwent an interview and a physical, and was hired and started work at the Memphis shipping company all on the same day. He was assigned employee No. 3,531. FedEx employee numbers are assigned in ascending chronological order; the lower the number, the earlier an employee started. Ducker began as a cargo handler, doing everything from unloading airplanes to sweeping floors.
Federal Express — known today as FedEx Corp. — flew its first deliveries out of Memphis just two years prior to Ducker joining. Over the next four decades, FedEx and Ducker took off. Now, after, 43 years, Ducker officially retired as president and CEO of FedEx Freight Aug. 15.
During FedEx's fourth quarter and full- year earnings call in June, Fred Smith — founder, chairman and CEO of FedEx — extended best wishes to Ducker, saying he always answered the company's call, whether it came from Europe, Asia or the Americas.
"He is one of the most outstanding leaders and executives that I have ever seen in any field," Smith said.
To get a better appreciation for Ducker's time with the company, what FedEx was like in its early days and where the logistics industry is headed, the MBJ recently sat down with Ducker to discuss a career he called "one of the greatest privileges" of his life.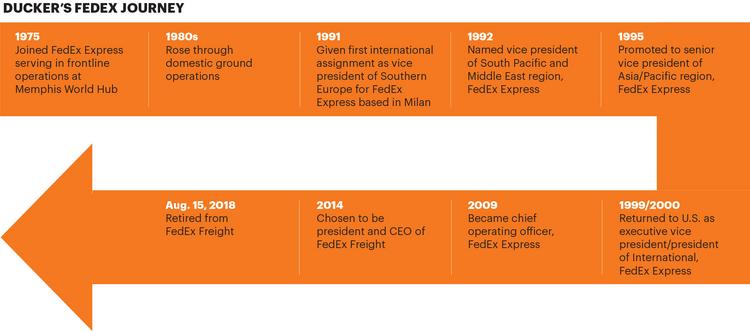 MBJ: What did it feel like to rise through the ranks of FedEx?
Michael Ducker: Some days it feels surreal to look back on where I started, but, more importantly, where the company started — and what we have become over the years. Both of them are sort of great stories, but the company is the great story. To come from where we came [from], to be who we are today and the scale and scope that this company has … it will probably be the largest transportation network in the history of mankind.
What were the early days of FedEx like? 
It was a little bit chaotic because we were an entrepreneurial startup venture. We were looking for capital to keep the company alive and going. Then, once the growth caught fire, it was hard to keep up with the growth that was occurring.
What was it like to work with Fred Smith over the years?
It has been a great blessing and a great education to work with one of the world's most iconic business people. He is a great leader and has been a great mentor. … He challenges you to be at your best, and he's calm under fire. He's a great example of what a leader should be.
You worked for FedEx from Milan, Singapore and Hong Kong from 1991-2000. What was it like living and working overseas? 
To have those kinds of cultural experiences working within the framework of a great global company like FedEx [was] life-altering. FedEx is a unique company in that we blend the local culture with the FedEx culture. To see people pulling in the same direction all across the world is one of the secret sauces that we have here at FedEx. … We're all working toward the same end.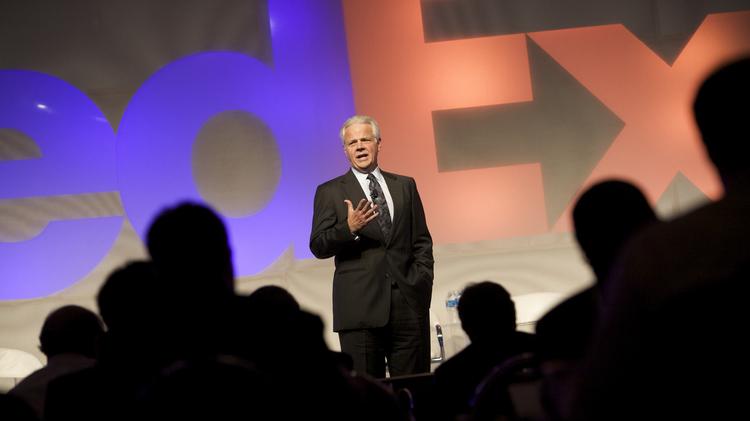 What kept you at the company throughout all those years? Why didn't you pursue other opportunities? 
I probably took a page from my pop: The grass may be a little bit greener but is no easier to mow on the other side.
Sometimes you overlook what you have right in front of you. I advise a lot of young people today: Stay with your company. Move around within the company. Learn your craft. Learn your business. Because that's the way to build a reputation [and a] resume. That's the way to build a knowledge base.
So, why did I stay? As I tell people, I haven't had a job in 43 years. I have had a passion. That passion was leadership. … We were building something new. We were building something grand. … We were fighting regulatory burdens that were imposed on us from an earlier era. … A lot of the younger guys enjoyed the fight. … You knew at that time you were making progress against a bold vision. That's why I stayed.
It seems like early FedEx employees were writing the rulebook for the industry as you went along. 
There was nothing like this in the industry at the time, so why not us to write the rulebook? The team that was together … [was comprised of] entrepreneurs and driven people who looked at the task and said, "Well, that's not impossible. That's possible. How do we do it?"
What in your career are you most proud of? 
Any leader's responsibility is who do you train, mentor and develop to be the next generation of leaders? Over my time and career, that's what I've focused on as much as anything else. … The most fun you can have in any sort of leadership job is seeing the people you work with — the people in your charge — become successful and grow and assume greater and greater levels of responsibility.
Any regrets?
No. The only regret I have is that I am not 20 years younger and can keep having fun. We're just getting started. For all we've done … you ain't seen nothing.
It sounds like it will be hard for you to step away. 
At a certain point in time, the decisions are right for you to put the next generation in the chair. You just step away and let the next generation go. They are ready to go, eager to go. And, so, I think the timing is appropriate.
What do you think — overall — the future of the shipping and logistics industry looks like? 
The future is extraordinarily bright. I don't think the demand for these kinds of services is going to wane.
Secondarily, there is so much that we can do with automation, artificial intelligence, big data analytics — things that can drive us to the point of greater and greater efficiencies in the supply chains and greater experiences for our customers. … One of the things we've done as a company that I'm very proud of is: We've connected the world in pretty extraordinary ways. You can start a company in your garage in Malaysia, and you can reach the whole of the world using the internet and FedEx's network. You can sell or buy from anywhere in the world. That's pretty cool.
It has been one of the greatest privileges of my life to work with this company and to be a part of watching it grow and develop into what it is today. I can't thank my teammates here at FedEx enough for all their support over the years and to Fred, the board, all the people for whom I've worked and all the teams I've been a part of. They have just been extraordinary. I couldn't ask for more.
When people say, "Watch out for Amazon," what's your response? 
Amazon is a great customer. Frankly, what we've built over the course of many years [is] a global network. We can reach — what is it, 90-plus percent of the world's GDP? The global reach and the scale of FedEx is really hard to replicate.
Have you given any advice to your successor, new Freight president and CEO John Smith (who was promoted from senior vice president of operations for FedEx Freight)?
Listen, he is such an incredible leader already, leaving this business in the hands of John Smith is one of the easier things I've had to do.
I am extremely confident in his capability. And he's prepared. He's got deep experience in terms of the LTL [less-than-truckload shipping] industry. He's got a very calm demeanor as a leader. He knows who he is. He remains true to himself, and I feel very confident in John's capability … to take this company into the next decade.
During your career, what has challenged you the most? 
Most of the things that challenged me were things outside [my] control. The financial crisis was a very challenging time. Some of these extraordinary regulations that are imposed by governments are very challenging. It's mostly things you can't control, so you've got to adapt and react and create new plans.
What do you have planned now? 
First of all, I'll do whatever my wife says. That's job one.
I'll do some work on the farm. I'll do some board work. I'll do some philanthropic work. There are a lot of things that I'm engaged in. … [I'll] relax for a little while and find out where the next passion is … but a lot of it will be spending time with the family and reconnecting with friends.
.