---
 Air passengers in the region set to more than double by 2036
Carriers expanding capacity despite squeeze on profitability
---
Airbus and Boeing have never had it so good in Asia.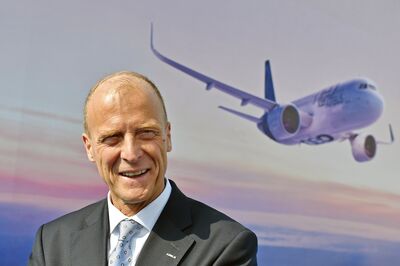 The rapid growth of mainland Chinese carriers and the entry of many budget operators has meant billions of dollars in orders for the aircraft makers. At the Singapore Airshow starting tomorrow, top officials from Airbus SE Chief Executive Officer Tom Enders to Boeing Co.'s vice president of marketing Randy Tinseth are due to outline their plans to capture that boom.
"There's a huge market there," said Rahul Kapoor, an analyst with Bloomberg Intelligence in Singapore. While airlines are looking for a balance between growth and profitability, "penetration is the name of the game right now. That's what they will do for the next five to seven years," he said.
Asia Pacific is likely to have 3.5 billion passengers by 2036, adding more than double the forecast for North America and Europe combined, according to estimates by the International Air Transport Association. To meet that demand, Boeing estimates carriers will need 16,050 new aircraft valued at $2.5 trillion by 2036.
After a flurry of aircraft deals in the last decade, Airbus and Boeing continue wooing Asian customers for future orders as carriers in mainland China, and those in India and Southeast Asia such as SpiceJet Ltd. and AirAsia Bhd. expand their operations. With airlines chasing market share at the expense of profitability, unprecedented competition has strained finances at the region's marque carriers such as Cathay Pacific Airways Ltd. and Singapore Airlines Ltd.
Asia's biggest airshow this year will be the last for the legendary head of sales at Airbus, John Leahy, who has handed over the baton to Eric Schulz. All eyes will be on Leahy, whether he will surprise with a final customer order before formally bowing out.
Here's a round-up of Asian aviation:
1. China is the leader
The country is likely to surpass the U.S. as the world's biggest air travel market by as early as 2022, two years quicker than a previous prediction. China will be adding 921 million passengers by 2036, followed by India with 337 million and Indonesia with 235 million, according to IATA.
Will 'Made in China' Threaten Boeing and Airbus?: QuickTake Q&A
2. What makes Asia tick?
Only 10 percent of the population in Asia has taken to the skies. That means the number of people using planes for travel will only grow.
Fast growing economies and an expanding middle class will drive demand, said Corrine Png, chief executive officer of Crucial Perspective, a Singapore-based equity researcher focused on Asian transportation.
3. Top buyers of planes
Airlines in Asia Pacific make up for the biggest portion of the order books for Airbus and Boeing. As per the Chicago-based planemaker's estimates, the region will account for 39 percent of the total projected global demand for 41,030 aircraft by 2036.
4. Hit on profitability
As competition becomes stiff, full-service carriers in Asia are losing passengers to budget operators and carriers based in the Middle East and China. In Singapore, for instance, low-fare carriers control more than half of the market.
Cathay Struggles to Get Top Dollar From Fliers Amid Revamp
That squeeze from budget carriers have depressed passenger yields, a key metric of profitability, prompting companies like Cathay Pacific and Singapore Air to review their business plans.
Singapore Air Says Capacity Still a Challenge as Review Proceeds
The average operating profit margin for Asia Pacific airlines is likely to drop for a second year to 8.1 percent, according to IATA. That compares with North America's 12.7 percent. Though Europe trailed at 6.6 percent, it is set for the sixth year of improvement in a row.
5. Infrastructure challenge
While major airports in Asia are investing to expand capacity, they are still slow to match the pace of growth in aviation, according to Shukor Yusof, founder of aviation consulting firm Endau Analytics in Malaysia.
Over $1 trillion is expected to be spent on airport expansions by 2069, with about half of that due to be spent in Asia, Sydney-based CAPA Centre for Aviation estimates. In Beijing, a new $12.9 billion airport due to open in 2019 will turn China's capital into one of the world's biggest aviation hubs. Bangkok's Suvarnabhumi Airport is set for a 117 billion baht ($3.7 billion) renovation through 2021, including a third runway. South Korea's Incheon International Airport spent 5 trillion won ($4.6 billion) on a second terminal as it aims to become "the world's leading mega-hub airport."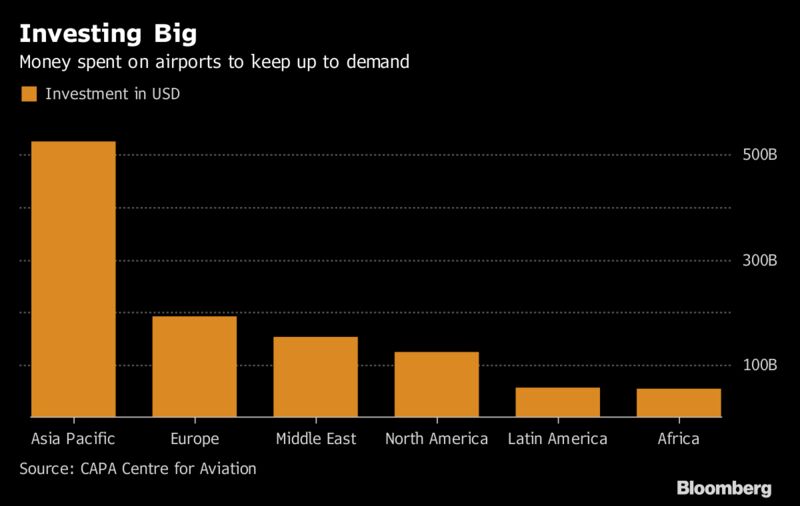 "Airport capacity is going to get a lot worse before better," said Jeffrey Lowe, managing director of Asian Sky Group. "There are airport developments currently concluding and more certainly planned. But is it enough – no."