A new "customs partnership" with the EU – which is fiercely opposed by some Tory Brexiteers – is still on the table, the business secretary says. 
Greg Clark warned about the effect of border checks on manufacturing jobs, saying whatever replaces the customs union was of "huge importance".
He added whichever option was chosen would "take some time" to put in place.
The UK government says it is leaving the customs union but ministers have not yet agreed what will come next.
Prime Minister Theresa May asked officials to draw up "revised proposals" after last week's meeting of her key Brexit committee.
All EU members are part of the customs union, within which there are no internal tariffs (taxes) on goods transported between them. There is also a common tariff agreed on goods entering from outside.
The UK government has said it is leaving the EU customs union so that it can strike its own trade deals around the world, something it cannot do as a member.
This means the UK and the EU will have to agree a new arrangement for what happens at their border post-Brexit.
The UK is under pressure to make progress on the issue before next month's EU summit.
Speaking on the BBC's Andrew Marr Show, Mr Clark said the UK would leave the customs union in 2019 with Brexit, and that finding the right replacement was of "huge importance", pointing to the needs of manufacturers like Toyota to avoid friction at the borders.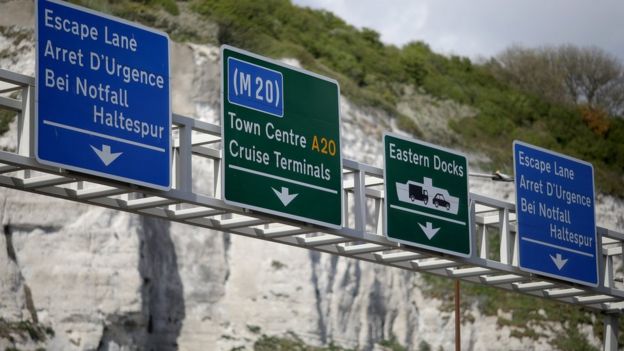 At last week's Brexit sub-committee meeting of senior ministers, several are believed to have voiced concerns about one of the two options put forward by the government – whereby Britain would collect tariffs on behalf of the EU for goods destined for member states.
Mr Clark said the ministers had had "a much more professional, collegiate discussion" than reports suggested.
And he said the partnership proposal had not been killed off, saying it offered the "very important" feature of avoiding paperwork at UK-EU borders.
But he added that this model was "not perfect" because arrangements would be needed to refund firms if they were only liable for lower UK rates.
He said this, and an alternative proposal of using technology and advanced checks to minimise border disruption, needed "further work", and that whichever was chosen, "it will take some time to have them put in place and available".
The business secretary said it was "possible" this could take two or three years after the UK leaves the EU, suggesting that different elements of the plan could be implemented at different times.
Former home secretary Amber Rudd – who resigned last Sunday over a deportations row – backed Mr Clark's comments.
Ms Rudd, a leading voice in the 2016 campaign to stay in the EU, tweeted that the business secretary was "quite right" to argue for a "Brexit that protects existing jobs and future investment".

The government's two customs options
A 'highly streamlined' customs arrangement – This would minimise customs checks rather than getting rid of them altogether, by using new technologies and things like trusted trader schemes, which could allow companies to pay duties in bulk every few months rather than every time their goods cross a border
A customs partnership – This would remove the need for new customs checks at the border. The UK would collect tariffs set by the EU customs union on goods coming into the UK on behalf of the EU. If those goods didn't leave the UK and UK tariffs on them were lower, companies could then claim back the difference.
Mrs May has been repeatedly urged by Brexiteers to abandon the partnership option, which critics say would keep the UK tied to EU rules.
The Sunday Telegraph quoted a cabinet source saying it would be "unimaginable for the prime minister to press on with the hybrid model after it has been torn apart by members of her own Brexit committee".
However, some pro-EU Tories are still pushing for much closer economic ties and commit to remaining inside the European Economic Area (EEA) and the European Free Trade Association (EFTA) – which would deliver full single market access.
Writing in the Sun on Sunday, Mrs. May said she had an "absolute determination to make a success of Brexit, by leaving the single market and customs union and building a new relationship with EU partners that takes back control of our borders, our laws and our money".
"We are making good progress towards that goal and we will carry on doing so with resolution in the months ahead."
Read the original story on BBC
.