A package of the FedEx courier delivery services company is pictured in this June 8, 2017 illustration photo. REUTERS/Carlos Jasso/Illustration
On a recent trip to FedEx's Asia Pacific headquarters, the company's CEO stopped by Bloomberg to talk all things trade and Amazon.
Fred Smith, founder, chairman and CEO of Memphis-based FedEx Corp., spoke with Erik Schatzker on "Bloomberg Daybreak: Europe" in Singapore Nov. 6. The conversation spanned everything from the company's stock price to cybersecurity, but it wouldn't be a FedEx interview if Smith wasn't asked about Amazon or trade.
Smith is known for being an outspoken advocate for free trade, and the bulk of the roughly eight-minute interview centered on that topic.
When asked how trade was affecting FedEx, Smith said he had just come from a briefing at the company's Asia Pacific headquarters.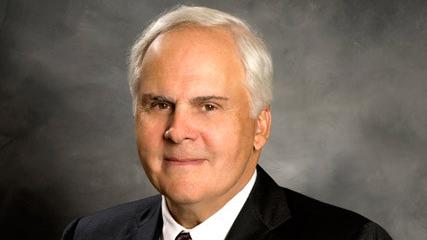 "A lot of our customers are telling us they are looking to shift some of their supply chains to Vietnam and Thailand — away from China," Smith told Schatzker. "Some of them are trying to ship a lot of product in advance of peak season so they avoid tariffs if they come in. … That begs the question: What happens to tariffs after the first of the year? Anytime you have a lot of change and uncertainty like we have today — with the tariff dispute — you have businesses that react to it."
Smith acknowledged China was a huge market for FedEx, but in terms of overall tariff eligible revenue, it only accounts for about 2.4 percent of the company's revenue.
When the conversation shifted to Amazon's recent announcement about its HQ2, which will reportedly be split into two locations, Smith said he didn't believe that would have much of an impact on FedEx.
He explained that Amazon delivers items from its own fulfillment centers to customers, while FedEx picks up, transports and delivers items from every person and business across the globe to other businesses.
"Amazon is a good customer," Smith said. "We think they will be a bigger customer in the years to come if they continue to grow — and they certainly should — but they are going to do some of their deliveries themselves for many reasons. The biggest single entity that will lose traffic as Amazon puts out its contractor delivery force is the U.S. Postal Service."
FedEx Corp. employs more than 425,000 people across the world, serving more than 220 countries and territories. On an average business day, FedEx handles 14 million shipments, but that number roughly doubles during the holiday season.
.